What is MultiCam?
MultiCam is a camouflage pattern created by Crye Precision. The name MultiCam is a registered trademark of Crye Precision.
It is meant to be versatile and applicable to a wide variety of conditions. It is currently a popular option for the military combat uniforms of the armed forces of several nations.
From the creator:
"MultiCam® is a highly effective, commercially available camouflage pattern used by the military, federal agencies, and law enforcement."
MultiCam was originally developed for the U.S. Army. It is meant to be effective in a variety of environments (arid, tropic, etc.), elevations, and light conditions.
Military forces are always eager to reduce logistical workload – and having versatile uniforms goes a long way to easing the burden of too many combat uniform types.
Colors of MultiCam
There are now several different variations based on the environment.
Besides the original MultiCam color scheme, the current officially licensed versions offered by Crye Precision include: MultiCam Arid, MultiCam Tropic, MultiCam Alpine (for snow), and MultiCam Black (for Law enforcement and SWAT team use).
MultiCam pattern is popular on both plate carriers (PC) and PC placards.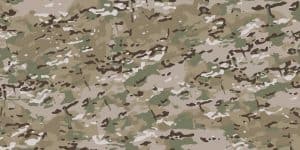 The original MultiCam pattern is based on these colors:
| | |
| --- | --- |
| Cream 524 | |
| Dark Brown 530 | |
| Tan 525 | |
| Brown 529 | |
| Dark Green 528 | |
| Olive 527 | |
| Pale Green 526 | |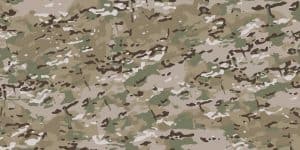 A selection of MultiCam products:
MultiCam Arid
MultiCam Arid is meant for open rock and desert environments, such as bright, open desert terrain.
It is sometimes referred to as MC Arid.
| | |
| --- | --- |
| Olive 172 | |
| Highland 174 | |
| Light Tan 170 | |
| Urban Tan 171 | |
| Light Coyote 173 | |
Arid MultiCam products:
MultiCam Tropic
MultiCam Tropic is used for dense jungle environments. The color palette reflects the deep green jungle vegetation that would be typical of such an environment.
It is sometimes referred to as MC Tropic.
| | |
| --- | --- |
| Olive 251 | |
| Bright Green 252 | |
| Green 253 | |
| Dark Brown 255 | |
| Dark Green 254 | |
MultiCap Tropic can be found in many products, here's just a sample.
MultiCam Alpine
MultiCam Alpine is meant for snow covered environments, and has a very light color palette.
| | |
| --- | --- |
| Medium Gray 126 | |
| Light Gray 125 | |
| White 124 | |
It's harder to find products in MultiCam Alpine pattern – but they are available.
MultiCam Black
MultiCam Black is meant for domestic law enforcement agencies, such as SWAT teams.
It is a very dark pattern, meant to provide a "commanding and authoritative presence".
Sometimes referred to as MC Black.
Shown here is a Triple Aught Design's Fastpack EDC in MC Black.
It looks nice!
| | |
| --- | --- |
| Gray 206 | |
| Olive 205 | |
| Black 207 | |
There are many products available in MultiCam Black, such as these.
If you expect to submerge your feet – these are awesome.
They also look good and are informally known as "Tactical Chucks" – for their resemblance to the Chucks Converse style of shoe.
MultiCam Commercial Options
MultiCam is a proprietary pattern that can be licensed or obtained for commercial products.
US Army Regulation 670-1 requires that non-Government issue equipment match the camouflage pattern of the uniform in use.
Hence, you will see MultiCam as a popular color option for many products such as vests, rucksacks, chest rigs, battle belts, and plate carriers.
How does MultiCam work?
MultiCam is impressively effective.
From the manufacturer's website:
"MultiCam® patterns take advantage of the way the human eye and brain perceive shape, volume, and color. Since only a very small portion of the human eye perceives color, the brain does a lot of "filling-in" for the eye. The unique high resolution design of MultiCam® takes advantage of this principle and helps the observer to "see" the pattern as part of the background.
The MultiCam® family of patterns rely more on a blending effect than a traditional contrast effect to disguise the wearer. This effect allows them to perform well in a wide range of environmental conditions. It also helps maintain the patterns' effectiveness even at close ranges where low resolution patterns often stand out against the natural (non-pixelated) environment."
Multicam Products – Tactical Hats
There are many products available in the MultiCam colors.
In Summary
The MultiCam family of camouflage patterns were developed with a modern approach.
These patterns are significantly more effective than past camouflage patterns.
MultiCam is in use by the armed forces of several nations as a result.
Many great products such as tactical hats and caps are available in the official MultiCam patterns and materials.
Photo Credits & References
Illustration credit for the Multicam images: www.Vecteezy.com
---
Last update on 2020-11-25 / Affiliate links / Images from Amazon Product Advertising API