The US Army and US Marine Corps use a variety of weapon sights and scopes.
We're going to review the current crop of sights and scopes – and explain what they are used for.
We're going to start with aiming lasers – also called laser pointers, target pointers, or target designators.
The US armed forces consider optics, sensors and lasers to be combat multipliers. Some of these are available for sale commercially, and some are not.
All of these cannot be exported outside of the US due to government export restrictions.
Here's the gear we're going to review in this article.
Let's look at these aiming lasers.
AN/PEQ-15 Multi-Functional Aiming Light
The AN/PEQ-15 is described as a "multi-functional aiming light", or MFAL for short.
It is also known as the Advanced Target Pointer Illuminator Aiming Light (ATPIAL).
For a civilian, think of this as a "laser pointer", but for a gun. It's an laser aiming device.
These devices are designed to provide precision aiming in visible and infrared (IR) spectrums. During the daytime soldiers can employ visible red dot lasers for targeting purposes, whereas at night, they can employ IR beams as they can only be detected with the use of night vision devices.
It is "multi-function" because it includes both a visible laser for daylight use, and an IR (invisible to the un-aided eye) laser for use with night vision devices.
It is used with a wide array of weapons, including: M16-series rifle, M4/M4A1 carbine, M249 machine gun, M240B machine gun, M2 machine gun, and the MK 19 machine gun/grenade launcher.
It is normally attached to the M1913 picatinny rail or equivalent, as shown here.
It can be mounted on the side, or on the top of a quad rail.
Because it is an aiming light (laser) it is normally used in conjunction with another optic – as seen in many of these pictures.
The co-aligned lasers are adjustable for windage and elevation.
Not only does the AN/PEQ-15 include two different lasers, but it also includes an IR illuminator.
The IR illuminator provides a wide beam of IR light – sort of like a flashlight.
This can be used to enhance the view through night vision goggles – but is highly visible to anyone (and everyone) else with night vision devices.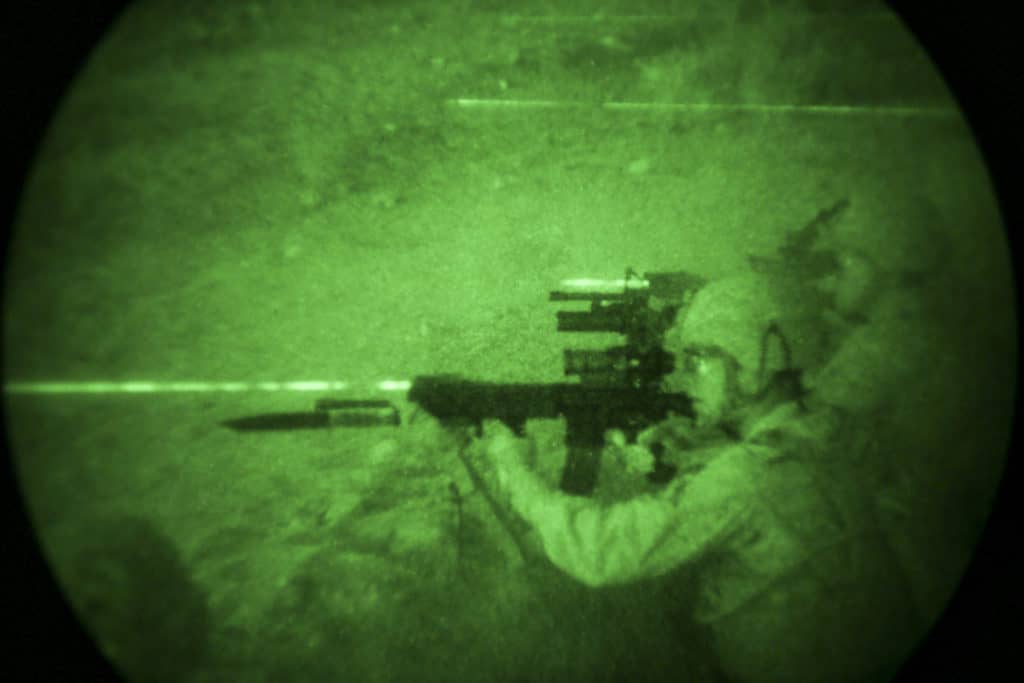 | | |
| --- | --- |
| Dimensions: | 4.6″ x 2.8″ x 1.6″ |
| Weight: | 7.5oz w/ batteries |
| Battery Type: | 1xDL 123 (3 Volt battery) |
| Battery Life: | 6+ hours in Dual High setting |
| Visible Aim Laser Range: | 25m |
| IR Aim Laser Range: | 600m on low, 2000m on high |
| IR Illuminator Range: | 2000m |
The fore-runner of the PEQ-15 was the AN/PEQ-2 and AN/PEQ-4C. The PEQ-15 is lighter and smaller, but both have similar capabilities.
The newest version, the AN/PEQ-15A Dual Beam Aiming Laser – Advanced2 – also known as the DBAL-A2, has improvements.
It incorporates an improved IR illuminator to provide better illumination at longer distances, and the cleaner, circular beam allows for accurate range estimation and engagement of moving targets.
Here's a closeup of the various switches on the DBAL-A2.
Let's move on and look at some more.
AN/PEQ-14 Integrated Laser/White Light Pointer (ILWLP)
The AN/PEQ-14 Integrated Laser/White Light Pointer (ILWLP) is a small, lightweight device soldiers can handhold – but it is really meant for use with pistols.
It is the equivalent of the AN/PEQ-15 – but for pistols – and it includes a regular white light/flashlight.
It can be mounted on the M9 pistol with a Military Standard (MIL-STD)-1913 rail adapter (picatinny rail.)
The AN/PEQ-14 combines the functions of a white light flashlight with adjustable focus, visible aiming laser, infrared (IR) aiming laser and IR illuminator into one system.
Two DL 123 standard commercial batteries are used.
Weight:
6 ounces
Range IR aim/illumination:
>100 meters
Visual aim:
25 meters during daylight but not direct
sunlight.
Range White light:
20 meters facial recognition
Operational time:
Supports between 30 minutes and
5 hours of continuous operation, depending on functions
operated
Power:
Two DL 123, 3 volt batteries

The AN/PEQ-14 ILWLP is used exclusively by military police units.
AN/PEQ-16B Mini Integrated Pointed Illuminator Module (MIPIM)
Need white (visible) light and laser pointers for a carbine or rifle?
The AN/PEQ-16B Mini Integrated Pointed Illuminator Module (MIPIM) is an integrated white light and laser device.
It enables laser pointing and precision aiming in visible or infrared spectrums. It emits a visible or infrared light for precise weapon boresighting and aiming, and incorporates a Light Emitting Diode (LED) bright white light for target/area illumination.
Weight:
9.9 ounces
Range IR lasers:
600 meters low power/2,000 meters high
power
Range Visible laser:
25 meters in daylight, but not in direct
sunlight
White Light:
Facial recognition at 25 meters
Operational time:
5 hours with lasers(s) on Dual High
Power:
Two DL 123, 3-volt batteries
AN/PSQ-23 Small Tactical Optical Rifle Mounted (STORM) Micro-Laser Rangefinder (MLRF)
The AN/PSQ-23 Small Tactical Optical Rifle Mounted (STORM) Micro-Laser Rangefinder (MLRF) is a lightweight, multifunctional laser system designed to operate on individual and crew served weapons, including the M110 sniper system.
It combines the functionality of a laser rangefinder, the AN/PEQ-15/15A Infrared Aiming Laser and Illuminator, The Multiple Integrated Laser Engagement System (MILES), a digital compass, and a visible pointer into a single system.
Combined with a Precision Lightweight GPS Receiver (PLGR) or a Defense Advanced GPS Receiver (DAGR), the system can compute and display highly accurate target locations.
The STORM is quite small and can be mounted on weapons both large and small.
The AN/PSQ-23 STORM is an advanced piece of equipment with a lot of features specific to military use.
It is not available for sale commercially.
US Army Aiming Lasers – In Summary
The US Army and US Marine Corps use different weapon sights and lasers for different purposes.
They have a variety of capabilities including visible light, visible laser pointing, and IR (invisible) laser pointing meant for use with Night Vision Devices (NVDs.)
Some are available commercially, while others are not.
Most, if not all, are export restricted per ITAR, but there is no reason you can't own and use most of these devices as a US citizen on US territory.
References
AN/PEQ-15 DBAL-A2 Product Specs (Steiner Defense)
DUAL PATH STRATEGY SERIES:PART III – SOLDIER BATTLEFIELD EFFECTIVENESS (Program Executive Office)
Photo Credits
The appearance of U.S. Department of Defense (DoD) visual information does not imply or constitute DoD endorsement.
Much of the photos in this article are provided by the U.S. Department of Defense (DoD), or the manufacturers – and are the property of the manufacturers.
Affiliate disclaimer
We are an affiliate of OpticsPlanet.com and this article contains affiliate links. If you purchase equipment after clicking through these links, we receive a small commission at no additional cost to you. This helps us to bring you great information about this technology.