Let's talk about tactical comms setups (tactical radio).
What's the essentials that you need?
You'll need a radio, an electronic headset (ideally with noise cancellation or high sound cut-off), and a push to talk (PTT) switch of some sort.
Here's a comms headset with boom mic in use.
The headset is being worn underneath the full-cut helmet, rather than mounted on the helmet rails – which might be an option for a high-cut or mid-cut helmet.
Here's headset mounted on rails with a high-cut helmet.
Comms Setup Radio – Cheap Option
For comms – you need a tactical radio.
NOTE: These are real radios – not toy walkie-talkies. An FCC GMRS radio license is needed to use these.
The cheap option (great for airsoft, larping, and MilSim) is the Baofeng Radio UV-5R MK4 8W (Buy on Amazon).
Li-Ion battery powered – it was good life and good range – in ideal conditions.
Also, it is exceptionally cheap.
But, please note – you get what you pay for. Some have experienced that these stop working from a SINGLE DROP!
This is your CHEAP choice – not your durable choice.
Also available in a 5 pack – great for your Airsoft squad.
Comms Setup Radio – Good Options
That baofeng radio was our cheap option – here's our good options – that we would recommend for professional use.
These are more rigorous comms radio options.
The Yaesu FT-60R (Buy on Amazon) is a big step up from the Baofeng.
People call this the best cheap radio available.
But, it is also more expensive.
Best Comms Headset
The Peltor III ComTac Electronic Headset (Buy on Amazon) is an "operator" quality tactical headset – and this is the device to beat.
The 3M Peltor ComTac III Electronic Headset has it all, and a noice-canceling boom mic for use with a radio.
First of all – this is a hearing protection electronic headset. Thanks to the dual mics it picks up all ambient sounds and quickly shuts off to protect you from gun shots (or loud industrial noises). It also protects from steady state noises.
These meet DA PAM 40-501 Army Hearing Conservation Program requirements.
They are popular with the military and LEOs.
Two AAA batteries will give you approx. 500 hours of use.
It includes a radio jack (and a boom mic) – which is what makes this a comms headset vs just an electronic ear muff.
This headset will work with various bump and ballistic helmets with a high cut shell.
The Peltor is pretty expensive, you might be able to find a used Peltor on ebay – but still expect to spend a few hundred dollars.
A cheaper option (minus boom mic) is the Howard Leight by Honeywell Impact Sport (Buy on Amazon).
These are shooting earmuffs with electronic cut-off when the sound level exceeds 82 dB.
They include an aux input for use with radio and scanners.
You can mount these with a head band (over the top of your head – under your helmet), a back band, or via rails.
Want a streamlined in-ear headset options?
This would work with an ACH (Advanced Combat Helmet) with ear coverage.
The
Silynx Clarus XPR Headset System
would be our recommendation.
These are in ear units that still offer active protection from both continuous and pulse noises, but also has crystal clear sound.
Silynx claims it to be the world's smallest and lightest tactical headset system.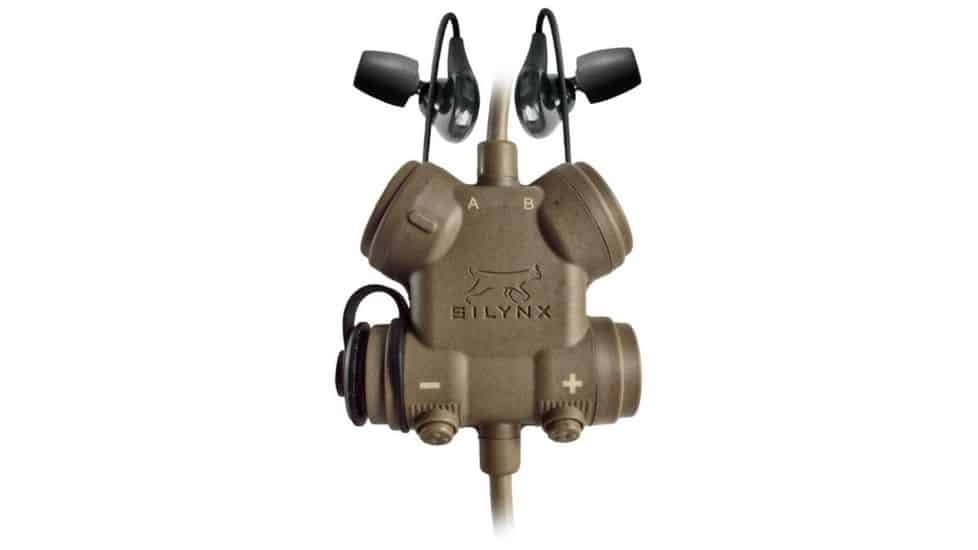 Push To Talk (PTT) Switch
With a tactical comms setup – you can't have the mic on at all times.
You'll need a PTT (Push To Talk) switch.
The U94 standard offers the broadest compatibility with radios and headsets.
The 3M PELTOR Push-To-Talk (PTT) Adapter (Buy on Amazon) would work perfect with the Peltor headset mentioned previously.
This is a 6 Pin connector.
Another option we recommend the Silynx U94 Push-to-Talk.
A speaker mic such as this model is also an option – but this is less convenient to use.
Comms Mounting Options
Under the helmet or on rails? What's the best option for mounting a headset.
Here's some things to consider:
Under the helmet can be less comfortable – but you can take the helmet off and still have comms and hearing protection.
With rail mounted headsets – you've got no comms or hearing protection anytime you take the helmet off.
Dual Comms Setup
What's a dual comms setup?
That's where you run two different radios through one headset with a multiplexer.
This lets you listen and speak on two different frequencies when desired.
This would work great for having intra-team/squad comms on one frequency and a command net on the other.
Advanced Situational Awareness
Radios can be used to communicate more than just voice (audio).
Pairing a smartphone or tablet with a digital radio provides amazing benefits.
The advanced CPU in a smartphone can power apps like ATAK (Awesome Team Awareness Kit).
This tactical smartphone app provides voice, text, images, video, moving map, satellite imagery – and is an outstanding friendly force tracker because it's integrated in real-time with the GPS sensors in your phone.
Best Comms Setup – In Summary
For comms, you need a radio, a headset, and some sort of PTT (Push To Talk) switch.
There are options that span the spectrum of cheap to expensive.
We hope this information has helped.
References
GMRS OR FRS RADIO: HOW TO CHOOSE
The appearance of U.S. Department of Defense (DoD) visual information does not imply or constitute DoD endorsement.
Last update on 2019-10-22 / Affiliate links / Images from Amazon Product Advertising API