Let's talk about the best tactical comms setups for tactical radio.
What are the essentials that you need?
You'll need a radio, an electronic headset (ideally with noise cancellation or high sound cut-off), and a push to talk (PTT) switch of some sort.
Here's the gear we are going to explain:
Here's a comms headset with a boom mic in use.
The headset is being worn underneath the full-cut helmet, rather than mounted on the helmet rails – which might be an option for a high-cut or mid-cut helmet.
Here is a headset mounted on rails with a high-cut helmet.
Let's look at some radio options.
Comms Setup Radio – Cheap Option
For comms – you need a tactical radio.
NOTE: These are real radios – not toy walkie-talkies. An FCC GMRS radio license is needed to use these.
The cheap option (great for airsoft, larping, and MilSim) is the Baofeng Radio UV-5R MK4 8W (Buy on Amazon).
It is Li-Ion battery powered – it has good life and good range, at least in ideal conditions.
Also, it is exceptionally cheap.
But, please note – you get what you pay for. Some have experienced that these stop working from a SINGLE DROP!
(But then again, others claim on issues whatsoever.)
This is your CHEAP choice – not your durable choice.
As such, it's not recommended for critical life-saving use – but should be fine for AirSoft.
It's also available in a 5 pack – great for your Airsoft squad.
The latest version of the Baofeng UV-5R is the UV-82HP.
You can get some cheap antenna options for these too. A larger antenna will increase the range.
Here's a PTT (Push To Talk) switch that will work with the Baofeng model radio.
And to round things out, here's a cheap ZTAC headset (COMTAC style):
Again, just remember this is your Airsoft or LARPing loadout, not for real world situations.
Comms Setup Radio – Good Options
That Baofeng radio was our cheap option – here's our good options that we would recommend for professional use.
These are more rigorous (and durable) comms radio options.
The is a big step up from the Baofeng.
People call this the best cheap radio available.
But, it is also more expensive.
Yaesu makes good stuff, just check the reviews.
Really, Really Good Radio Options for Tactical Comms
The AN/PRC-152 is the standard single channel tactical radio in use by US military forces.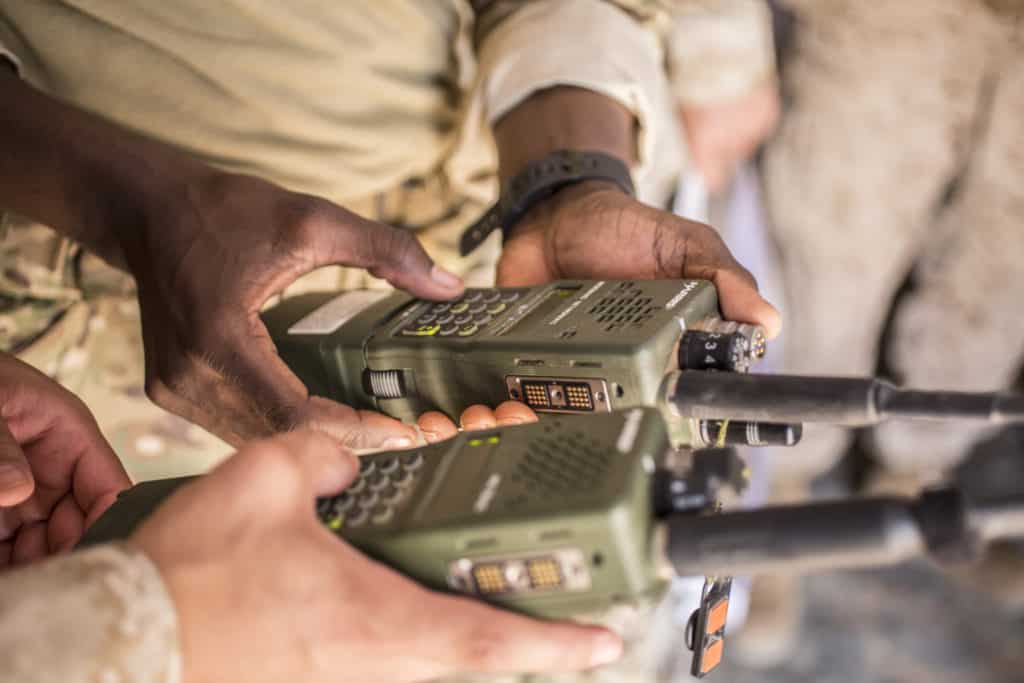 It has a lot of advanced features like encryption, and some versions have a built-in GPS.
As far as I know, it is not possible for civilians to purchase these.
There are "knock-offs", clones, or replicas listed on Amazon – most of these are a Harris look-a-like physical case with Baofeng radio guts inside.
Which, if you want an AN/PRC-152 look-a-like for Milsim purposes – there's nothing wrong with that.
A real AN/PRC-152 would be overkill for civilian purposes anyways – and would be very expensive.
Best Comms Headset
The Peltor III ComTac Electronic Headset (Buy on Amazon) is an "operator" quality tactical headset – and this is the device to beat.
The 3M Peltor ComTac III Electronic Headset has it all, and a noise-canceling boom mic for use with a radio.
First of all – to be clear this is a hearing protection electronic headset. Thanks to the dual mics it picks up all ambient sounds and quickly shuts off the sound to protect you from gun shots (or loud industrial noises). It also protects from steady state noises – think like construction equipment, or on the factory shop floor.
It has what the manufacturer calls "talk-through" capability – so you can hear normal conversations but any loud impulse noises are "compressed" to a safe level.
Don't lots of hearing protection headsets do this?
Yes. But not like the Comtac IIIs do!
The cheaper headsets do "clipping" rather than "compression" and this can cause voice comms to become unintelligible when in the presence of lots of loud sounds.
These meet DA PAM 40-501 Army Hearing Conservation Program requirements.
They are popular with the military and LEOs.
Two AAA batteries will give you approx. 500 hours of use.
It includes a radio jack (and a boom mic) – which is what makes this a comms headset vs just an electronic ear muff.
This headset will work with various bump and ballistic helmets with a high cut shell.
The Peltor is pretty expensive, you might be able to find a used Peltor on ebay – but still expect to spend a few hundred dollars.
A cheaper option (minus the boom mic) is the Howard Leight by Honeywell Impact Sport (Buy on Amazon).
These are shooting earmuffs with electronic cut-off when the sound level exceeds 82 dB.
They include an auxillary (aux) input for use with radio and scanners.
You can mount these with a head band (over the top of your head – under your helmet), a back or neck band, or via rails.
Want streamlined in-ear headset options?
This would work with an ACH (Advanced Combat Helmet) with ear coverage.
The
Silynx Clarus XPR Headset System
would be our recommendation.
These are in ear units that still offer active protection from both continuous and pulse noises, but also has crystal clear sound.
Silynx claims it to be the world's smallest and lightest tactical headset system.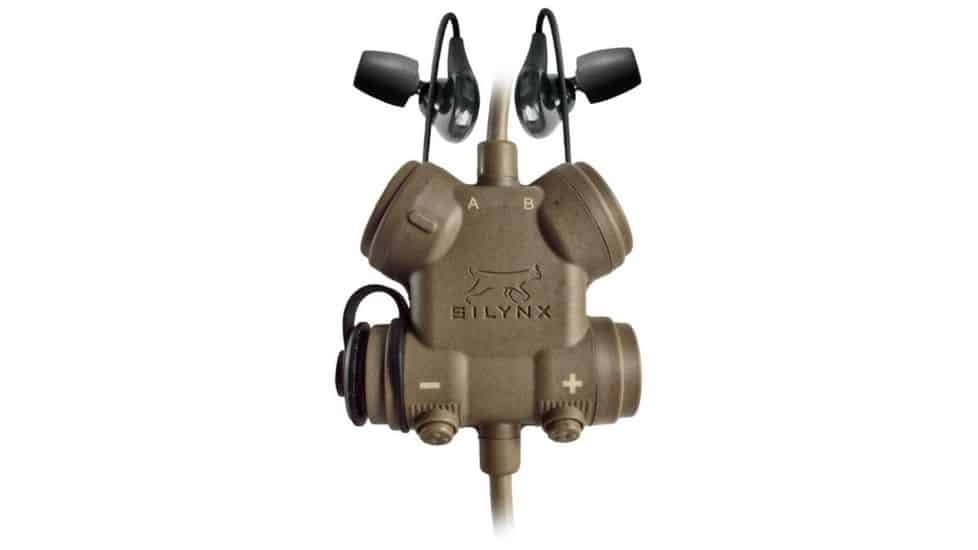 3M also makes a tactical ear plug.
These come with a charging case, just like your AirPods.
3M makes good stuff – but it's not cheap.
Push To Talk (PTT) Switch
Hand held radios have a PTT (Push To Talk) switch built-in on the side.
But what if you are using the radio with a head set and boom mic?
With a tactical headset comms setup – you can't have the mic on at all times.
You'll need a PTT (Push To Talk) switch of some sort.
The cable from the headset plugs into the PTT switch, and the PTT switch plugs into the radio – leaving it at a convenient location for you to activate it.
The U94 standard offers the broadest compatibility with radios and headsets.
NOTE: This is a 6 pin connector – it's not going to plug directly into the FT-60R or UV-5R radios above.
The 3M PELTOR Push-To-Talk (PTT) Adapter (Buy on Amazon) would work perfect with the Peltor headset mentioned previously.
This is a 6 Pin connector.
You'll need to make sure your radio has a 6 pin connector (most don't!).
Another option we recommend the Silynx U94 Push-to-Talk.
A speaker mic such as this model is also an option – but this is less convenient to use.
These are popular for law enforcement use.
Comms Mounting Options
How should you mount your headset? Under the helmet, around the neck or on rails?
What's the best option for mounting a headset?
Here's some things to consider:
Under the helmet can be less comfortable – but you can take the helmet off and still have comms and hearing protection.
You can wear most of these headsets with a neck band or back band – this goes around your neck vs over the top of your head.
With rail mounted headsets – you've got no comms or hearing protection anytime you take the helmet off.
(And that helmet is going to feel heavy after a long time.)
Dual Comms Setup
What is a dual comms setup?
That's where you run two different radios through one headset with a multiplexer.
This lets you listen and speak on two different frequencies when desired.
This would work great for having intra-team/squad comms on one frequency and a command net on the other.
You can have one radio on the left ear, and another on the right – to keep things straight.
The "Dual Comm" version of the Peltor III is what you need for this purpose.
Notice that it's got cables on the left and right, instead of just one cable.
So, that's how this magic happens…
And, it's more expensive – of course.
Peltor Comtac VI
3M makes a newer version of the Comtac headset – called the ComTac VI Nib Headset.
The big news here is that it has "Natural Interaction Behavior" or NIB.
This is some kind of short range (a few meters) wireless networking that lets you talk (and hear) anyone else with a Comtact VI headset – NO RADIO NEEDED.
It's peer to peer communications at the headset level.
These also have general improvements in all the important functions – and it supports Mission Audio Profiles (MAP) that let you "tune" the noise cancelling features of the headset.
Advanced Situational Awareness
Radios can be used to communicate more than just voice (audio).
Pairing a smartphone or tablet with a digital radio provides amazing benefits.
The advanced CPU in a smartphone can power apps like ATAK (Android Tactical Assault Kit).
This tactical smartphone app provides voice, text, images, video, moving map, satellite imagery – and is an outstanding friendly force tracker because it's integrated in real-time with the GPS sensors in your phone.
Best Comms Setup – In Summary
For comms, you need a radio, a headset, and some sort of PTT (Push To Talk) switch.
There are options that span the spectrum of cheap to expensive.
Spend according to your needs – don't go cheap on critical equipment.
We hope this information has been helpful.
Best Tactical Comms Setup – References
GMRS OR FRS RADIO: HOW TO CHOOSE
3M Peltor Comtac VI NIB product specs
3M Peltor Comtac III product specs
The appearance of U.S. Department of Defense (DoD) visual information does not imply or constitute DoD endorsement.
Last update on 2022-05-22 / Affiliate links / Images from Amazon Product Advertising API