Let's talk about the best MOLLE clips.
If you've got tactical gear with the MOLLE system, you know it helps make your gear super-customizable and versatile.
How do we connect attachments, pouches, and packs to this MOLLE?
We use MOLLE clips and other connectors, such as carabiners.
There's many types of options, and we'll discuss them here.
Whether you want fast connect and disconnect, a robust interlock that won't fail, or something in between – we'll present the best MOLLE clips and connectors here.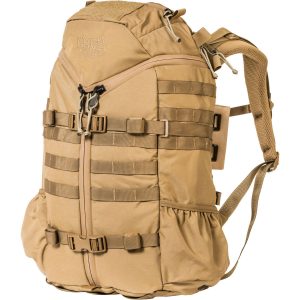 MOLLE webbing (also called PALS for Pouch Attachment Ladder System) is heavy-duty nylon stitched onto vests, chest rigs, battle belts, or backpacks (usually in rows) to allow for all kinds of attachments.
The Mystery Ranch 3 Day Assault Pack sports lots of MOLLE – on the back and sides of the pack.
Some bags, like the GORUCK GR1 also have 3 rows of MOLLE in the interior – which is great for organizing your gear.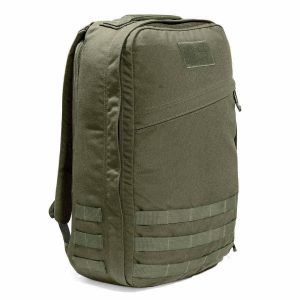 MOLLE is very popular because it makes your gear customizable and re-configurable for ergonomics or efficiency.
MOLLE is a standard and therefore a lot of manufacturers support it.
Bags from 5.11 Tactical Rush line (such as this Rush24 backpack) have a lot of MOLLE as well.
Rucksacks aren't the only gear with MOLLE though.
Other tactical gear such as tactical vests, plate carriers, chest rigs, medical bags, battle belts, and more also have this feature.
Let's talk about the best MOLLE clips.
Best MOLLE Clips – Our Choices
Want to jump right to the conclusion? Here's our recommended choices – depending on what you need.
Read on for all the details of our evaluation.
Best MOLLE Clips and Connectors – For Ease Of Connect or Quick Attach
What sort of MOLLE clips do you need?
It depends mostly on how quickly (and easily) you want to be able to connect and disconnect pouches and other gear.
Let's look at fast (quick attach) but secure options first.
Our first choice when you want to be able to mount or dismount gear quickly is the Speed Clips by BLACKHAWK! (Buy on Amazon)
These provide a secure, robust connection and are good for heavy items such as ammo pouches or trauma kits. But, at the same time they are easy to connect or disconnect.
Compatible with MOLLE and MOLLE 2 systems, these clips are available in multiple lengths – 3″, 5″, 7″ and 9″. Which do you need? How much MOLLE is on your gear? Time to get out the ruler.
Make sure you order the right size.
The nomenclature for the product is that the #3 is the 3 inch (goes between two straps), #5 is the 5 inch (goes between 3 straps), etc. Here's what the #5 looks like when it's threaded through some PALS webbing:
By the way, the standard for the PALS webbing grid is horizontal rows of 1 in (2.5 cm) webbing, spaced 1 in apart, and attached to the backing at 1.5 in (3.8 cm) intervals.
Made from high-tech polymer (aka plastic) these speed clips are solid but slightly flexible. They can bend slightly in the middle and at the ends as you manipulate them into the harness or bag. This is what makes them so easy to use.
Shown here are the colors black, coyote tan, and olive drab (twice). These are the #3 (3″) size.
Here's a video showing how easy these are to use:
Let's move on and look at a quick release MOLLE clip.
Best MOLLE Clips and Connectors – Quick Release MOLLE Clips
Need a quick release option for your MOLLE gear?
You want VANQUEST 5 inch MOLLE Sticks (Buy on Amazon).
How do these work?
Here's a picture.
To release: A firm pull-forward on the cord unlocks the top latch, followed by an upward pull removing the MOLLE Stick from the webbing.
When seconds count, this is the MOLLE clip you want.
These work great for attaching FAK ( First Aid Kit) pouches, Trauma Kits, EDC (Every Day Carry) items, and other such things.
These are the best quick release MOLLE clips.
Here's a video from the manufacturer showing how to use them.
OK, we've looked at EASY to use MOLLE Clips, and Quick release MOLLE clips, now let's look at the MOLLE clips to use when you DO NOT want them coming undone.
Best MOLLE Clips and Connectors – For a Robust Connection
Got gear that needs a really robust MOLLE connection?
If connection failure is not an option, you want the Tactical Tailor Malice Clips (Buy on Amazon).
Use these when you really don't want your MOLLE clips coming undone.
How do these work?
You weave them through the MOLLE webbing, fold in half, and then connect securely.
You'll need a screwdriver, knife point, or other flat object to disconnect them.
These won't rust and are not affected by extreme temperatures. They've got a subdued finish.
User reviews indicate that there is no chance these will come undone inadvertently. These are the "best of the best" and superior to competitor products.
Here's how these are installed:
Make sure you order the right size. The "Short" version is 3″ when closed, "Long" is 5″ when closed.
There's also a Fight Light variation of the Malice Clip (Buy on Amazon).
These are slightly lighter, as you can see they are constructed with a minimum of material.
Overall they have a much slimmer, more streamlined appearance.
Users also indicate this version is easier to work with compared to the standard malice clips. With the thinner bodies, they are easier to weave through the MOLLE webbing
Just like the regular version, the Fight Light malice clips are available in short or long, and have the same dimensions, same strength, and same temperature tolerance.
Let's switch gears now and talk about another useful connector for your tactical gear – the carabiner.
MOLLE – Carabiners
Sometimes what you really need is a carabiner.
The Grimloc Super Strong Molded Polymer Clip Carabiner (Buy on Amazon) from Ten Point Gear is MOLLE compatible.
They have spring loaded gate closures and a textured grip for use with wet hands or gloves.
Recommended for mounting light gear to your pack – these are definitely not a weight bearing carabiner.
MOLLE Clips – Hydration Tube Routing
Here's another popular need on the mission or the ruck march.
The Tactical Military Hydration Tube Clips (Buy on Amazon) from BOOSTSTEADY let you route the hydration tube from your rucksack.
These are an essential item to help keep everything looking nice and neat.
Avoid the "gypsy camp" look by securely routing hydration tubes along your rig harness or backpack straps.
Keep your hydration tube in it's proper place, to ensure you can get to it when you need to, without having to doff your rucksack.
How to put MOLLE where there is no MOLLE
Once you get bitten by the MOLLE bug, it's hard to stop.
Having neat, strong organization of life-saving and critical gear can take place elsewhere beside backpacks, rucksacks, and vests.
How can you put MOLLE where there is no MOLLE?
Grey Man Tactical's RIP-M Rigid Molle Panels are just what you need.
This item is a strong, rigid panel with cutouts according to MOLLE PALS webbing specifications.
You can use it to organize gear in your backpack, rucksack, pelican case, gun safe, inside a vehicle – and just about anywhere else you desire to have MOLLE.
There are several different sizes available, so be sure to check out all the options.
MOLLE Sampler Pack
Want a great sampler pack of a variety of helpful rucksack items?
This kit includes a variety of useful items – like web dominators.
What's that?
Special clips you can use to keep things from looking like a "gypsy camp".
Use web dominators to secure webbing, cords, wires, and any excess materials.
Control, route, and and neaten hydration tubes, flashlights, knives fastening, and especially use it for backpack strap management.
The web dominators eliminate excess webbing trip/snag hazards.
These help neaten up your GORUCK hip belt or chest strap too.
Those Web Dominators (Buy on Amazon) can be purchased separately as well, in a 10 pack.
Here's an example of how the elastic cords on these can be used to creatively mount a small item, such as a flashlight, or kydex sheath.
Let's move on and look at one final accessory that is very helpful, the Heroclip super-carabiner.
The Swiss Army Knife of Carabiners
This isn't a MOLLE clip, nor a plain carabiner, it's a super carabiner.
The HeroClip (Buy on Amazon) is a hybrid gear clip with a built-in hook that rotates 360° in either direction.
It folds at two joints for maximum versatility and features a rubber tip on the end so your gear will stay put wherever you hang it. This rubber "beak" means it's got lots of grip.
The HeroClip has a 60 lb weight capacity as well.
In Summary
MOLLE and PALS webbing make your tactical and outdoor gear super configurable.
This means efficiency and customization.
Whether you use speed clips, sticks, carabiners, or other special MOLLE connectors, these options should handle just about any need you have.
You may also be interested in our articles on budget rucksacks – they all integrate with MOLLE.
---
Last update on 2019-07-19 / Affiliate links / Images from Amazon Product Advertising API