Got Night Vision?
Then you might need an IR beacon, IR Strobe, or IR Chemlight.
What are these things and what are they used for? That's what we'll talk about here.
Why IR is used with Night Vision
First of all, let's talk about IR (Infrared) and why it is related to night vision.
The "near infra-red" (NIR) spectrum of light is invisible to the human eye – but it can be easily seen with the Image Intensification (II or I2) technology used in Night Vision Goggles.
This type of IR light is not the "heat" emitted from objects despite the similar name.
When using Night Vision Goggles you can easily see this near Infrared light – so you can use that to your advantage.
How?
Infrared lasers make a great aiming device – visible to those with goggles – but invisible to others. This let's you "point and shoot" while keeping your position concealed (assuming someone else doesn't have NVGs!)
In the same way you can use this Near Infrared light to stand out when being viewed with Night Vision Goggles.
This makes it easy for your team mates to identify you and to know your position.
Here's an example. Take a look at this video – this is a training exercise at night, but certain members of this squad have their helmet mounted IR strobes activated – and you can see they clearly stand out when viewed using night vision. Further, the "strobe" makes it unmistakable.
This "Identification Friend or Foe" is one of the most important uses of these devices.
The devices used for this include IR Strobes, IR Beacons, or IR chemlights.
Let's talk about those items next.
IR Chemlights
What's a chemlight?
If you are a civilian you know these as a "glow stick."
It's a translucent plastic cylinder with chemicals.
They contain two chemicals – that when mixed – provide heat free light with no external energy source needed via chemiluminescence.
The downside is of course that this light doesn't last forever – it is temporary.
So, chemlight is the military term for a glow stick.
IR chemlights use specific chemicals (with scary names like "N-dibutylaminoanthracene") to produce near infrared light instead of visible light.
(Or we should say "mostly" near infrared light – chemlights may produce a small amount of visible light along with infrared.)
So, an IR chemlight is simply an IR glow stick.
They are relatively cheap, safe, and disposable.
They last about 8 hours each, and a 10 pack is about $30.
Regular chemlight are super-useful too.
Here's a visible light green chemlight being spun to make it highly visible.
IR Beacons and Strobes
IR beacons and strobes are electronic devices that emit light.
Some do visible light, some do near infrared – and some do both.
Think of it as a chemlight that takes batteries.
Here's an example.
These last a lot longer than disposable chemlights and because they are electronic devices they are a lot more flexible.
They are often mounted to helmets – for best visibility.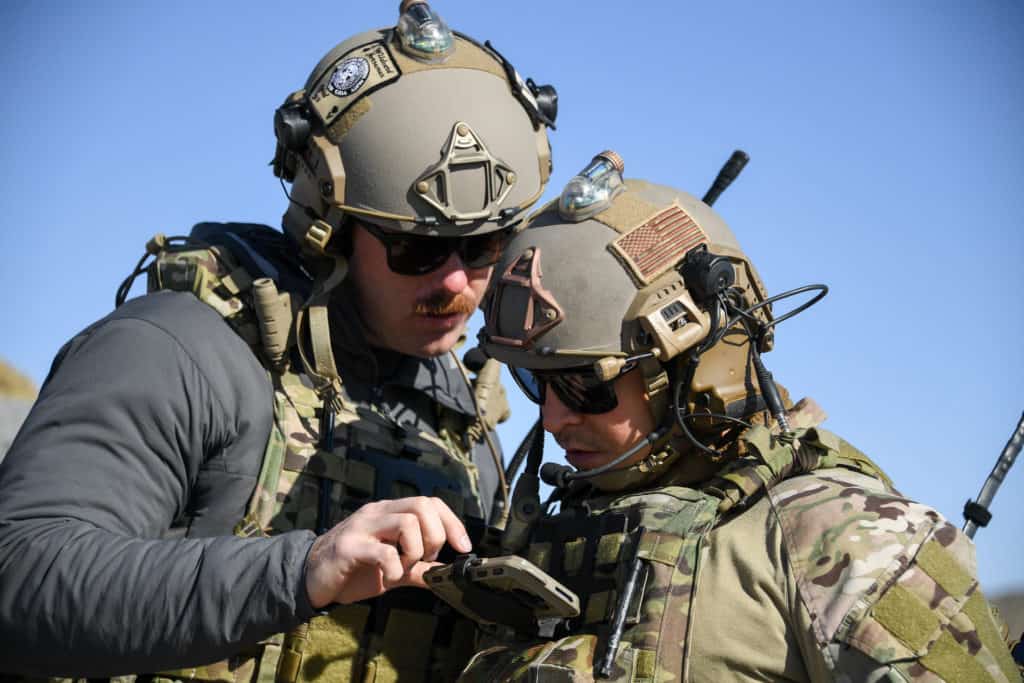 Beacons like the V-Lite Multi-Mode have a lot of advantages over chemlights.
Here's a video
First of all, mounting these strobes on helmets is obvious – that's where they can be seen most easily – and many tactical and bump helmets have hook and loop on the top or back specifically for this purpose.
These small electronic devices can be curved slightly to better conform to the helmet shape.
They can produce substantial visible light too – that V-Lite can do : White, Blue, Purple, Red, Yellow, Green, Pink & Orange – all in addition to Infrared.
This is a great feature for environments that don't require light discipline.
It's also IPX8 waterproof and can be mounted on MOLLE/PALS webbing – which means you can put it pretty much anywhere.
Run time? About 120 hours – WAY more than a chemlight.
The Manta Strobe is another popular option – for all the same reasons.
The Core Survival HEL-STAR 6 Gen III is another example of an advanced IR strobe. The manufacturer calls it a "Multi-Function Marker Light" and it can provide "Overt or Covert Marking" (meaning it does visible light and IR.)
Capabilities include:
"Functions can be selected from virtually any combination of White, four different color options, and IR – either flashing or steady. Variable flash rates, intensities and coded signals provide expanded IFF (Identification Friend or Foe) capability"
It is so advanced, it is ITAR controlled – it is illegal to export outside of the US.
Here's a video:
Other strobes – MS2000 IR Strobe
There are other devices and form factors such as this one.
This is the MS2000 form factor. It is a device that has been in use for many years, and is popular for that reason.
It can be helmet mounted in a variety of ways (via helmet band, bungee, or velcro) – and is also used by aircrews as a distress marker. It can be spun on it's lanyard for high visibility.
It can produce visible light, or IR only through the use of a filter.
There is also a shield for omni-directional or uni-directional visibility.
These are popular and easily available – but aren't a snag-free, streamlined form factor like the newer Manta and Hel-Star we reviewed above.
The MS2000 model has a blue filter.
This is used to distinguish the light from ground fire.
Micro Form Factor IR Strobes
Some are very, very small – such as the Morovision Phoenix Jr. IR Beacon (Buy on Amazon).
IR Beacons and Strobes – In Summary
Night Vision Goggles can see the Near Infrared (NIR) light that is invisible to the human eye.
This means we can use Infrared light to stand out better when viewed with Night Vision.
There are a variety of options to do this.
IR Chemlights are cheap – but don't last long.
Electronic devices like IR Strobes and Beacons are more flexible, have more features, and also cost significantly more.
Designs for these strobes have evolved from the MS2000 form factor – which is comparatively bulky – to newer designs such as those used by the Manta and Hel-Star strobes.
Last update on 2022-05-22 / Affiliate links / Images from Amazon Product Advertising API